°Back°
Betoota Hotel


It's very close to Birdsville, just only 167 Km away!
I was able to park my Bike and buildt my Tent underneath the Veranda!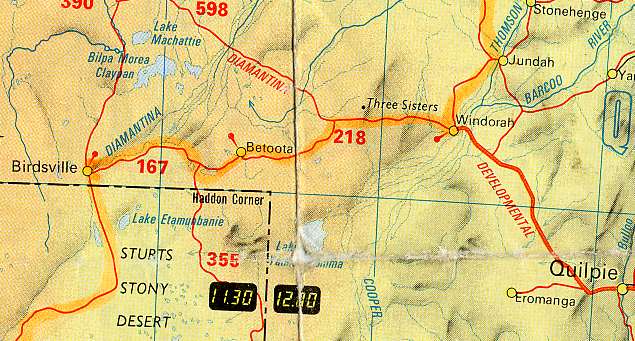 Betoota Queensland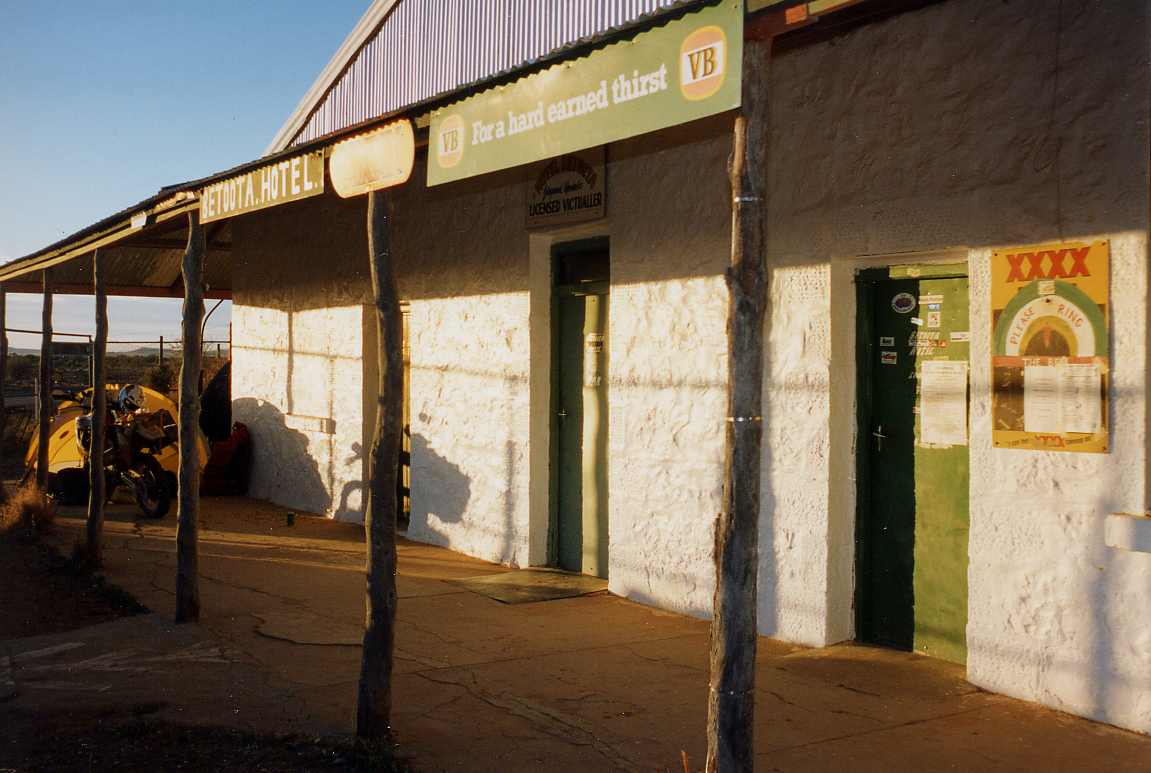 Betoota started as a border town with its main income being derived from tolls and taxes. This source of revenue dried up on the establishment of the Federation. An old stone hotel is the only survivor of the town.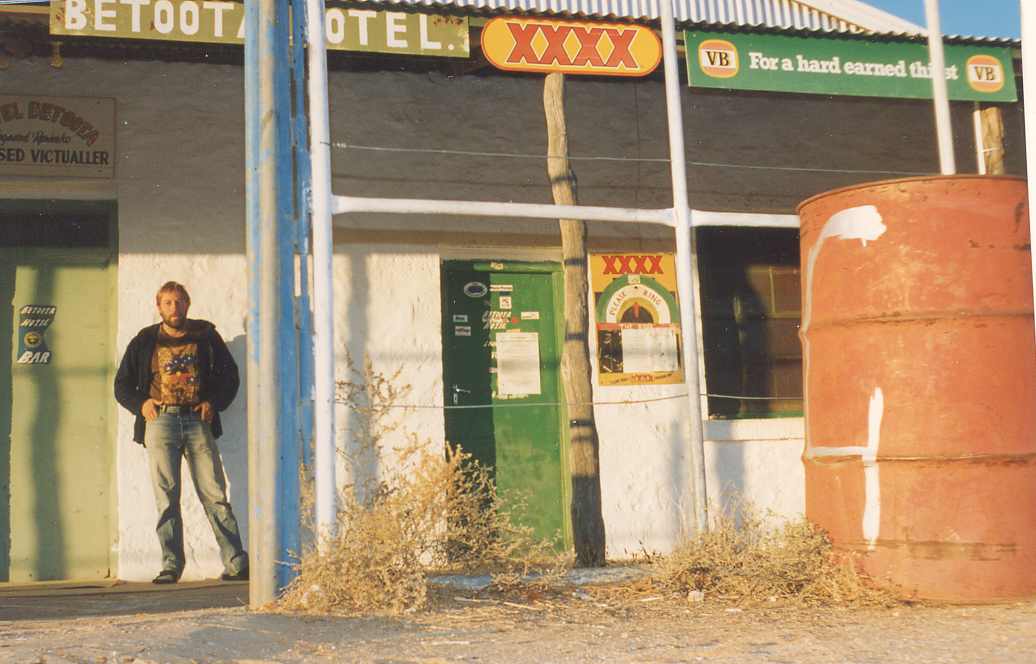 Alone in Australia's smallest town
November 9 2002
Life is quiet in Betoota, and Simon Remienko, 87, likes it that way.
Simon Remienko is sole resident of Australia's smallest town.
"I own the place - if you own something and it makes you happy, there is no reason to leave it," said Mr Remienko, 87.
"There is always something for me to do here. If I don't look after myself, nobody else will."
Mr Remienko owns the 112-year-old Betoota Hotel, the only building in town, which he managed for 44 years before shutting up shop in 1997.
Surrounded by bleak, tree-less plains, the hotel is the only structure on the 400-kilometre rough dirt road between Windorah and Birdsville in western Queensland. The closure of the hotel and its petrol bowser means many motorists have to carry extra fuel.

Mr Remienko still stocks a full bar, though bottles are coated with fine desert dust and he has not sold a drop for five years. "I'm too old now but I still have the liquor licence, just in case," he says. His "neighbours" worry about him. "You've got to be a bit concerned, him being out there all by himself," said Marilyn Simpson, proprietor of the Windorah Hotel, 220 kilometres east of Betoota.
Betoota is an officially designated town, the nation's smallest, complete with a town plan and a subdivision.
The Birdsville-based Diamantina Shire Council recently put some blocks up for sale in Betoota. To the surprise of everyone, six sold for between $200 and $500 each. "I don't think the buyers plan to move there anytime soon," said Mayor David Brook.
That is a relief to the reclusive Mr Remienko. His hotel is a fortress, its thick sandstone walls attached to a three-metre, locked wire enclosure. If he is not in the mood for visitors, which is almost always, he ignores the doorbell. Betoota's water supply is tenuous and power comes from a generator. Summer temperatures frequently soar into the 50s.
Mr Remienko cooks on a wood-fired stove. A few years back, his washing machine broke down. Transporting it hundreds of kilometres for repairs was too difficult. "I just hand-wash my clothes now," he says.
He drives to Birdsville for groceries once a month - almost a three-hour trip each way. Occasionally, for a change of scenery, he drives 1400 kilometres to Adelaide to visit friends - four days each way.
Mr Remienko was released recently from a five-month stint in the Toowoomba Hospital. "I was driving on the road, I had an accident, I hurt my leg," he says. He has never married, smoked or - hotel notwithstanding - drunk alcohol. His fiery temper is legendary. Police have been contacted after more than one encounter between outback travellers and a sometimes armed Mr Remienko.
He was 25 when he migrated to Australia from Poland and was sent to the dusty town of Boulia, north of Betoota, where he got a job as a grader driver.
He set up a contracting business, working long hours to save £3500 to buy the hotel in 1953. "There were no roads then, just little tracks," he says. "When it rained heavy, you didn't go anywhere."
Curious luminaries such as the aviator Dick Smith would drop before Betoota's airstrip was closed when the hotel shut.
"People came here to have weddings, big parties, all sorts of reasons," he says. "It's a good place."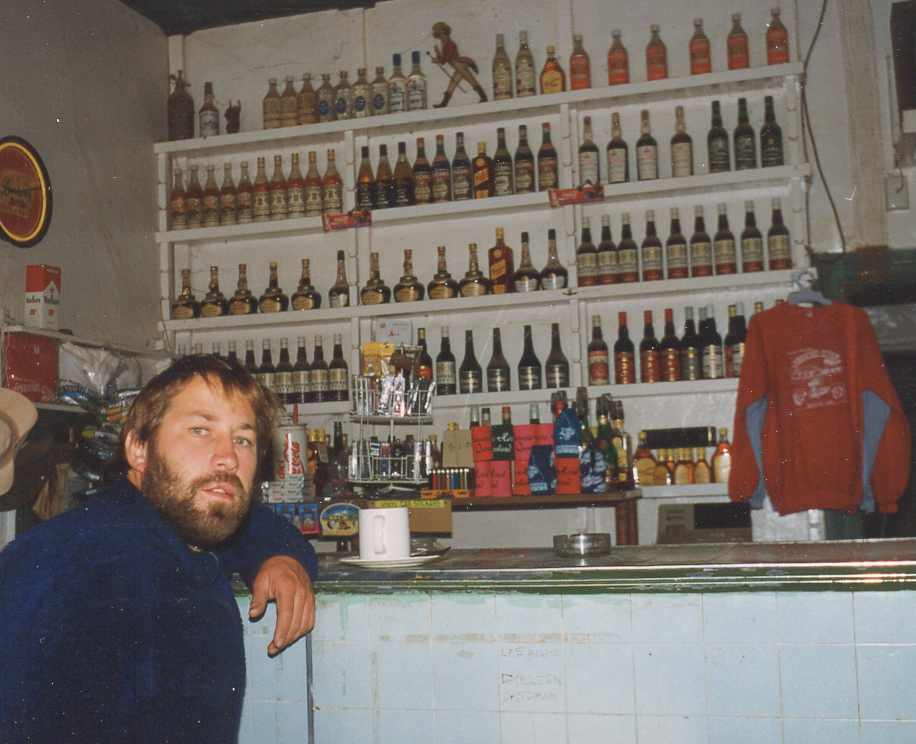 You can't even call Betoota a one-horse town these days. Lying forlorn amidst the treeless gibber stone plains and sandy floodplains of the sweeping Channel Country, its 114 year-old pub has closed, its petrol pump is defunct, the phone box vandalised and its last remaining resident and hotel owner, 88 year-old eccentric Simon (Ziegmund) Remienko, has moved away.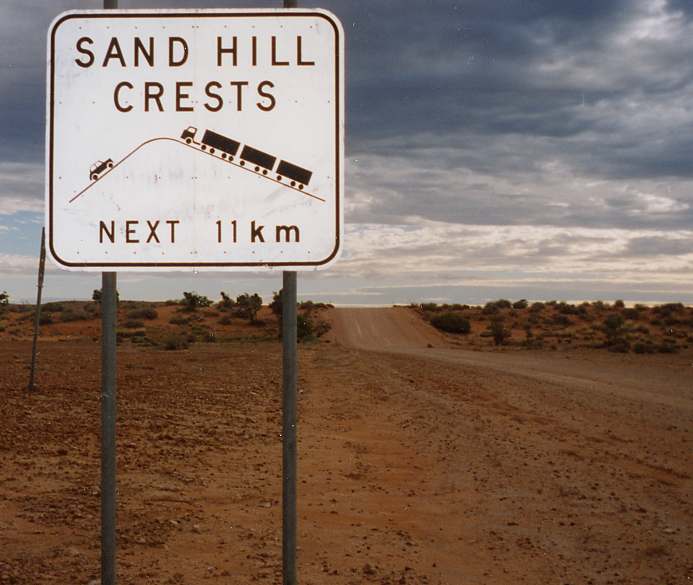 That's the last few Kilometers before You arrive Betoota! (No Comment to that Sign) ;o)
°Back°